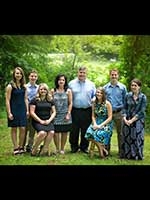 Jeff Vaughan was born in Canton, Ohio, on April 20, 1959. He grew up in a Christian home with his brother and six sisters. On October 31, 1976, at the age of 17, he accepted Christ as his personal Savior. In 1978 he left home to attend Bob Jones University in Greenville, SC to major in music. In 1982 Jeff decided to enroll in Baptist University of America in Decatur, GA where he graduated with a Bachelors degree in Bible. In 1984 Jeff began working at Belmont Baptist Church in Decatur, GA as Music Minister where he met his future wife Debbie Easterwood. After dating for 11 months, they married and were on staff for 11 years in multiple positions such as Youth Pastor, Music Minister, and Assistant Pastor.
In 1995 God called them to Bridgeport, WV as the Grace Baptist Church's Youth/Assistant Pastor position for six years. In 2000 their oldest son's health required them to return to Atlanta for long-term extensive hospital care. As their son was healing, God called them to their first pastorate at Enon First Baptist Church in College Park, GA where they served for three years. In 2004 through definite leading from God, they returned here to Grace to minister as the head pastor and have continued serving here at Grace,
The Vaughans have 4 children all of whom are married and serving the Lord in their respective churches.