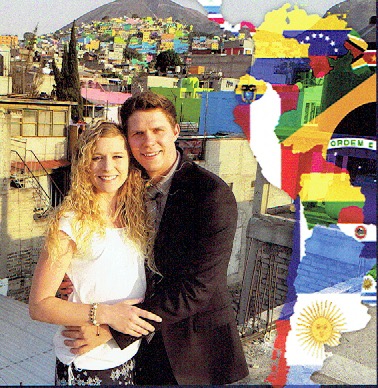 Enoch & Ariel Wynne (Missionaries to Central & South America
October/November
We cannot express enough thanks to those who have supported us this far during our deputation.God definitely protected us as we made the long drive from the east coast to Texas, and He continues to protect and provide for us through your prayers and financial support. We will continue to visit churches in the Midwest throughout the winter.
In November we had the opportunity to once again travel to Mexico to check on the progress of the church building going up in Veracruz. We were able to work with the finances involved with construction in order to speed up the process. While we were there, we were passing out tracks and met Rafael, a boy in the street talking to his aunt Esmeralda through her second story window. It was a very cold day (for Mexico), so I asked if I could explain the gospel to them both right there from the street. Instead, Esmeralda put on a coat and boots and came outside into the cold to listen. They both accepted Christ as their Savior, and it was such a blessing for us to see their excitement and willingness to hear the gospel despite the weather.
I also had the opportunity to help out at a youth activity for one of the churches we were visiting in the states. During a game of basketball, I noticed one teen sitting by himself and went over to talk to him. Within a few moments, I realized this teen, Jeremy, was a little disappointed and discouraged because no one wanted to include him in the game. I noticed he was wearing soccer cleats and began to connect with him over soccer and teach him a few tricks as well. After we had played for a bit, I asked if he had ever accepted Jesus as his Savior. When he replied  that he had not, I explained the gospel to him, and Jeremy accepted Christ as his personal Savior.
We are blessed and encouraged to see these people come to know Christ, and we are convinced that they are "counted as fruit to your account" because of your support and prayers for us.